Game: Tales of Seikyu Free Download

"Tales of Seikyu" is an fantasy farming sim game set in a fae lost land called Seikyu, inhabited by legendary creatures. However, the town is frequently threatened by the old gods' forces. As a new arrival, can you successfully manage the old inn entrusted to you by God Inari?
About This Game
"Tales of Seikyu" is an enthralling fantasy-style farming sim adventure game set in the cozy fairy land of Seikyu, a haven for legendary creatures from around the world. The town throbs with life, home to unique residents including Shuten-dōji, the flamboyant, perpetually tipsy bar owner, Yoji, a rebellious folklorist with a sharp tongue and a deep fascination for ancient gods, and Otter Andolini, a former mafia boss who now finds peace at his beloved dock. Yet, beneath the façade of tranquility, the town lives in the shadow of the Old Gods' power. As a new arrival bestowed an old inn by the Inari God, are you prepared to immerse yourself in this otherworldly journey?

Game Features
From Ruins to Splendor: Build Your Dream Inn Amidst Legendary Creatures

You are entrusted with a historic farm & an old, dilapidated house by the Inari God. Your mission? To transform it into a charming hotel where all creatures feel at home. Handle every aspect of your business, refurbish furniture, expand guest rooms, and ensure every resident's stay is nothing short of extraordinary. Hone your culinary skills in the hotel cafeteria to tantalize the taste buds of your diverse guests.

Shape-shift Your Way Through Mysteries: Unleash Unique Abilities with Divine Masks

Journey into the divine realm, a labyrinth filled with intriguing puzzles, and acquire ability masks. Will you charge as a Wild Boar to obliterate obstacles, climb steep cliffs effortlessly as a Dryad with your vine powers, or dive deep underwater as a Slime in pursuit of hidden treasures? Unleash your creativity to solve puzzles in innovative ways.

Unveil Hidden Stories: Nurture Friendships and Romances with Villagers

More than 30 unique characters are ready to cross paths with you, each possessing a captivating storyline intertwined with Seikyu's world and the village. Can you unlock their hearts, empathize with their joys and sorrows, and as emotions run high, will you find yourself fostering friendships and potentially blossoming romances?

Team up with friends to uncover the secrets of the world

Invite friends to join you in the mysterious Seikyu and discover the secrets of this fae world together. Challenge the divine realm as a team to collect lost treasures, demonstrate the power of friendship to your foes, collaborate on the farm, or work together to build your own manor. For quieter moments, simply relax in a corner of the town with nothing to do and enjoy the sea breeze and sunshine.
Download Tales of Seikyu Game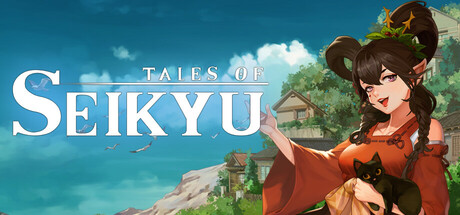 Tales of Seikyu Trailer

Game Tales of Seikyu Download
System Requirements
Minimum:

OS: Windows 10 64-bit
Processor: Intel Core i5-6600 (3.3Ghz) or AMD Ryzen 5 1400 (3.2Ghz)
Memory: 16 GB RAM
Graphics: NVIDIA GeForce GTX 960 4GB or AMD Radeon RX 470 4GB
DirectX: Version 12
Additional Notes: SSD (Preferred)
Recommended:

OS: Windows 10 64-bit
Processor: Intel Core i7-8700 (3.2Ghz) or AMD Ryzen 5 3600 (3.6 Ghz)
Memory: 16 GB RAM
Graphics: NVIDIA GeForce 1080 Ti or AMD Radeon RX 5700 XT or INTEL Arc A770
DirectX: Version 12
Additional Notes: SSD (Preferred)
Free Download Tales of Seikyu Game
Full Game, latest version. Download for Free!