Game: Badiya: Desert Survival Free Download

Badiya is a Sandbox Survival RPG set in the WWI era desert lands. Badiya challenges you to brave the sands, take part in wars, ply the spice routes, or hunt for treasure as you strive to fulfill your ambitions.
About This Game
Experience the mystical desert culture just as industrialization was dawning upon it. The desert, with its harsh climate and fierce wildlife also hides such gems as the honor-bound bedouins, sites of ancient civilizations, and rare resources. Simultaneously, the rising industrial power of world war one offers a backdrop ripe with conflict and destruction as horse meets tank.
INFINITE PROCEDURAL OPEN WORLD: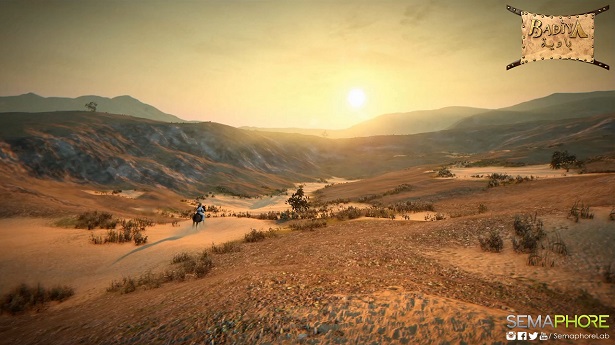 Every time you play you will see different looking terrain, events, enemy encounters, and items to loot.
TIME OF DAY SYSTEM:

A full 24 hour cycle is available. You can sleep to pass time and regain stamina.
WEATHER SYSTEM: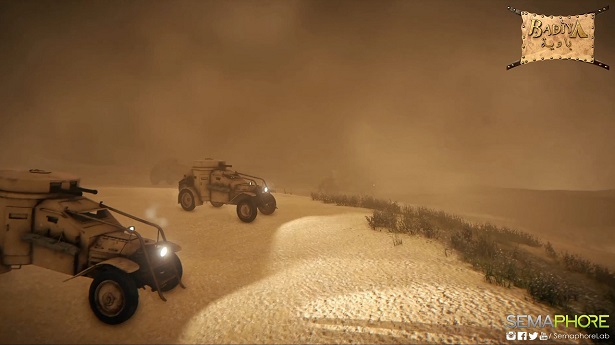 Clear, Cloudy, Overcast, Rain with different intensities, Snow with different intensities, Sandstorms and Fog.
CHARACTER CUSTOMIZATION: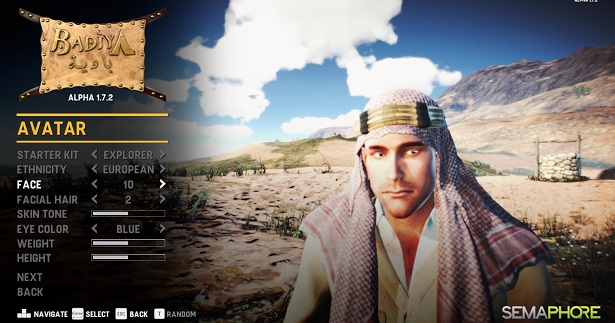 Control your character ethnicity, skin tone, eye color, facial shape, facial hair, height and weight.
BUILD YOUR WARDROBE: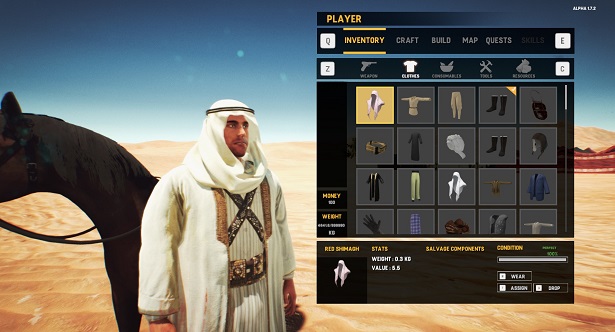 Badiya features a collection of authentically designed Arabic and western clothing sets covering multiple styles for head-wear, upper body, lower body, feet and accessories. You can also mix an match if you like (Imagine an Arabian thobe with a Cowboy Hat. That would be cool!)

WATCH FOR YOUR NEEDS: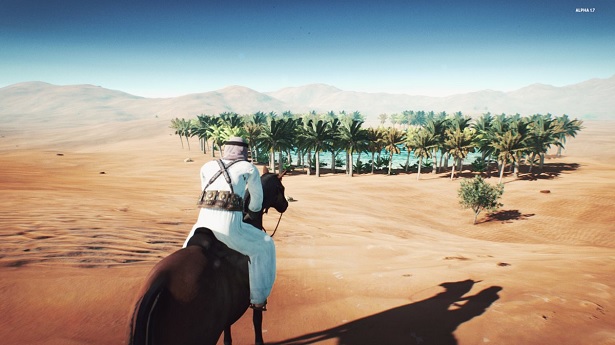 Keep an eye on your biometric indicators such as health, food, thirst, temperature (you can get Hypothermia and Hyperthermia if you are not careful). Balance your diet and food intake in-game because your character can gain weight or lose weight with visible visual difference.
MINE AND HARVEST:

Collect different types of plants that you can use to craft medical potions to help with poisoning, pain and stamina. Mine rocks to gather iron, gold, or cooper ore as well as other precious metals. Chop down trees for wood, fruits and plant fiber.
CRAFT YOUR TOOLS:

Loot everything you can and gather resources to be able to craft all sorts of recipes for weapons, medicine, and tools.
BUILD YOUR CAMP: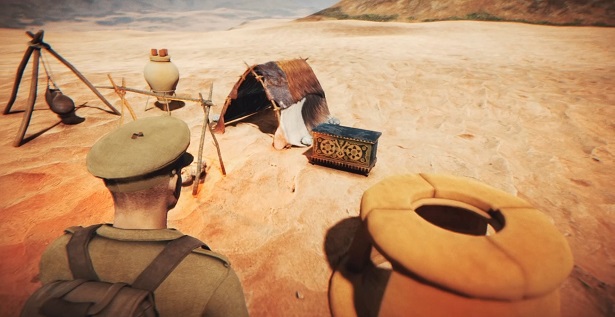 You can craft and place a camp fire which can be used for cooking food and as a source of heat during cold nights, build a smelting station to turn minerals into useful materials, build a crafting bench to build advanced items and sleep in a tent to gain more stamina and health back.
COOK YOUR MEALS:

Over 20 Middle Eastern local cuisines and soups can be cooked with a cooking station in addition to cooking plain meat.

DEADLY WEAPONS:

Utilize an arsenal of weapons including side arms, rifles, machine guns and (in future alphas) flame throwers and sniper rifles.
HUNT AND SKIN ANIMALS:

Hunt prey animals such as Rabbits, Deers, Oryx and many others and skin them to get their meat, hide, fur, fat and bones.
FIGHT THE BEASTS:

Many wild animals roam the desert awaiting to skin their teeth into you including wolves, Leopards, Hyenas, Lynx, and stray Greyhounds.
BANDITS AND MERCENARIES: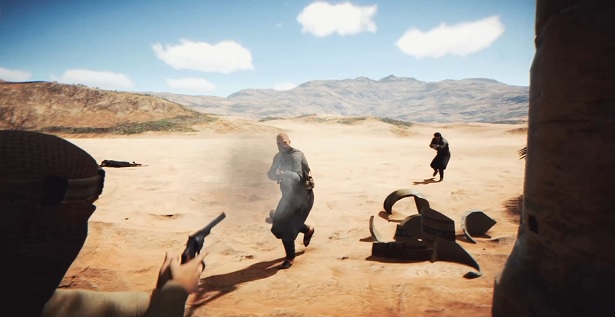 Guns Blazing vs Stealth. You have the choice to approach each situation to your liking wither its to launch a full blown attack or sneak your way through undetected while knocking enemies unconscious and dragging their bodies out of sight.

TRADE: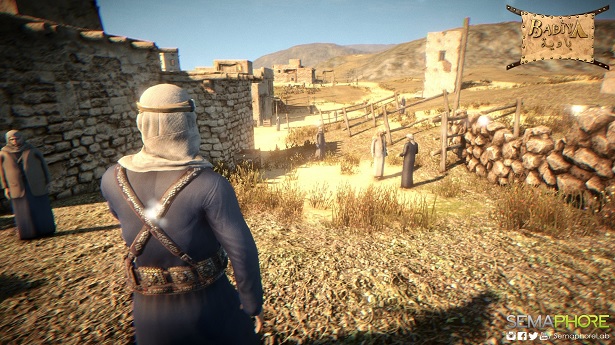 Buy, sell and trade with different merchants across bedouin camps and villages.
TREASURE HUNT: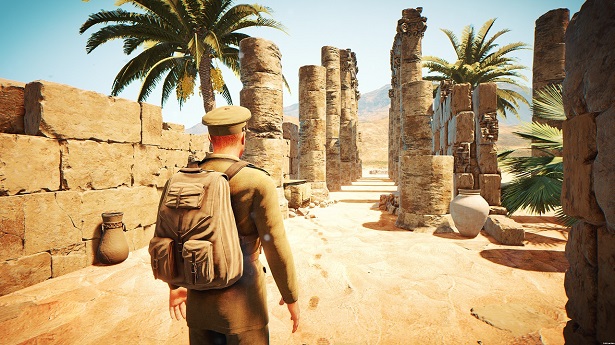 Hunt for treasures and riches hidden in bandit guarded ancient ruins.
EMBARK ON QUESTS:

Embark on an unlimited number of quests that you can take from the locals that will ask you to gather items, transport items, secure bandit and mercenary locations, find treasures and many more.

RIDE: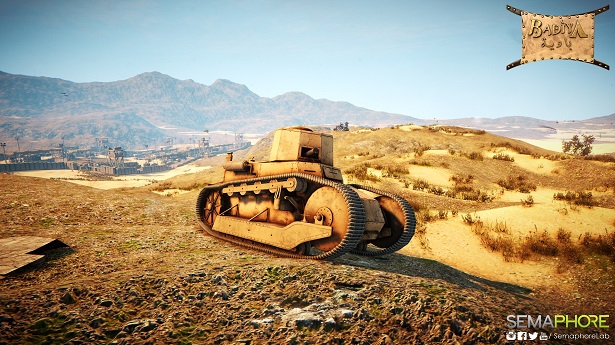 In addition to horses and camels, Badiya features authentic military vehicles including armored cars, tanks, planes, and dune buggies with customization features such as tire armour, different weapon choices, desert camouflage paint job, side lights and more.
MAP SYSTEM WITH A POI COMPASS: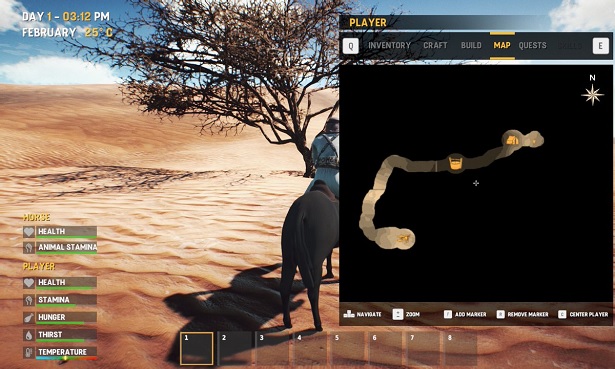 A fully featured map system with Fog of War that reveals only the parts that you explored. An optional POI compass appears on top of the screen and guides you to the locations of nearby points of interest.
FAST TRAVEL THROUGH DESERT CARAVANS:

You can come across caravans that feature merchants to trade with, quest givers as well as the ability to fast travel to previously discovered points of interest for a cost.
A RICH AND DIVERSE WORLD AWAITS YOU: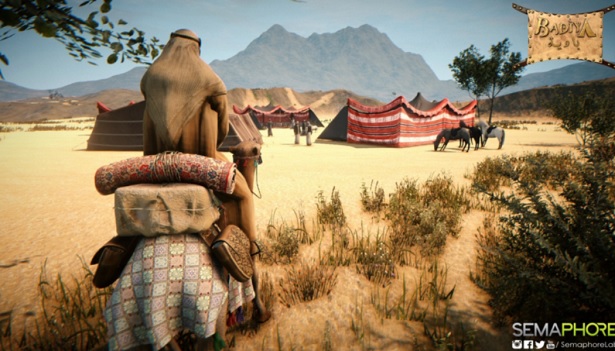 The desert is filled with interesting locations to discover including oasis, bedouin camps, villages, military bases, air fields, oil wells, ancient ruins, Caravans, Wheat Fields, Palm Farms and many others.
SCOUTING: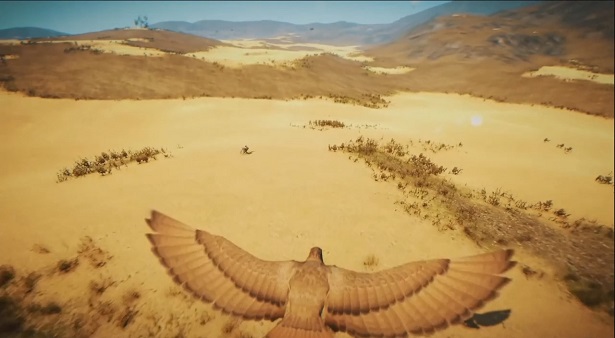 Use a falcon, scope or binoculars to scout and tag enemies and resources.

PHOTO MODE: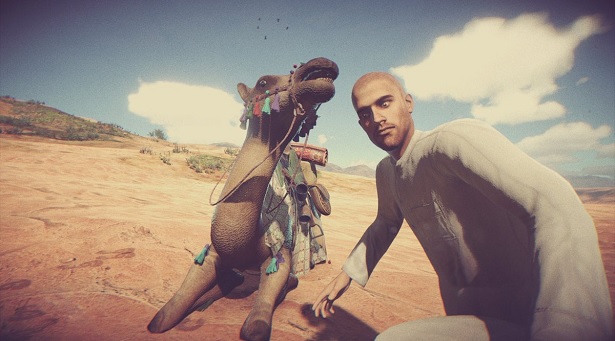 You can pause the game at any point, move the camera around to frame your shot, change color filters, control camera depth of field and field of view and then capture that perfect shot that you can share on social media.
ULTRA HIGH DEFINITION 4K SUPPORT: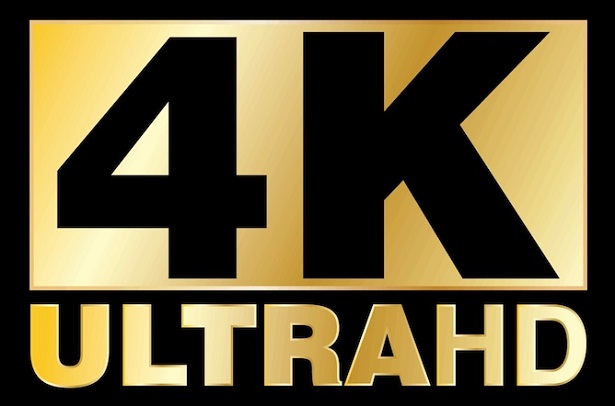 High resolution textures ensure a crisp look that is carried over when you play in 4K. The user interface will also scale accordingly to show in a proper and readable way.
COMPLETE CONTROL:
Rebindable Keys and Full Controller Support: Switch on the fly between Mouse/Keyboard, Xbox One Controller or Playstation 4 Controller at any time.
Fully Scalable: Choose from several quality presets or manually customize every single parameter to get the desired quality/performance combination you are after.
Customizable HUD: Control wither to show or hide any HUD element such as: Blood, Detection Indicators, FOV, Health Bars, Item Icons, Camera Shake, Screen Overlays, Compass Distances, Distance Units and Temprature Units. Or you can disable the HUD completely.
NEXT-GENERATION RENDERING:
Lighting: Fully dynamic lighting with Realtime Global Illumination (Future Alpha) and color bleeding.
Rendering and Shading: AAA quality Physically Based Rendering to give all objects a realistic look throughout any time of day. Dedicated shading for Cloth, Skin, and Fur. Snow, Water and Dirt accumulation on terrain and objects. Parallax Occlusion Mapping on terrain gives it that extra depth.
Cinematic Post Processing: Film Quality post processing effects including Color Grading, Tone Mapping, Eye Adaptation, Sun shafts, Ambient Occlusion, Grain, Vignetting, Chromatic Abberation, Motion Blur and Adaptive Depth of Field. Every single one of those effects can be turned on or off according to your liking.
Film Style Anti Aliasing: Temporal Anti Aliasing that prevents flickering while removing jagged edges. You also have the option of using FXAA, SMAA or disabling anti aliasing altogether.
Animation: Character animations are based on motion capture data of a real actor and then enhanced with Inverse Kinematics to achieve greater integration with the world like foot placement on uneven terrain.
FULL INTERACTIVITY: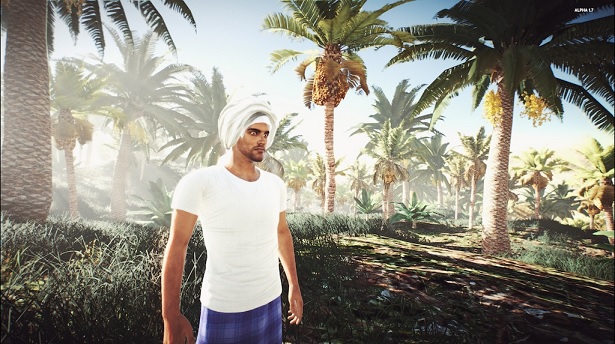 Adaptive Soundtrack: Music track that adapts to what you are doing in the game and changes the mood and intensity accordingly.
Destruction: Objects made of wood and clay will break and shatter based on the force you hit them with. In addition to fracture being fully dynamic (not prefractured) you can further destroy the broken pieces into even smaller chunks.
Touch Bending: Walking through ground level plants (Like short Palm Trees) will cause their leaves to dynamically bend and react to your physical presence.
Water Simulation: Walking through the water surfaces will cause ripples and waves based on the type of movement you did. Water is rendered with screen space reflections, specular highlights, refraction, foam and white caps coupled with caustics for greater realism.
Dynamic Fire Propagation (Future Alpha): Throwing a fire torch or a lantern on flammable surfaces like cloth and wood will cause fire to spread dynamically in the area.
Interactive Cloth (Future Alpha): Cloth react to wind speed but in addition it will also be affect by physical objects or characters passing through them.
Metal Deformation: Like in real life, metal will bend and deform if gets shot or if it collides with other heavier objects.

SEA LIFE:

Build your own ship and navigate to explore different islands filled with treasures, go fishing, or pearl diving in the sea.
PROCEDURAL TOMBS AND CAVE NETWORKS: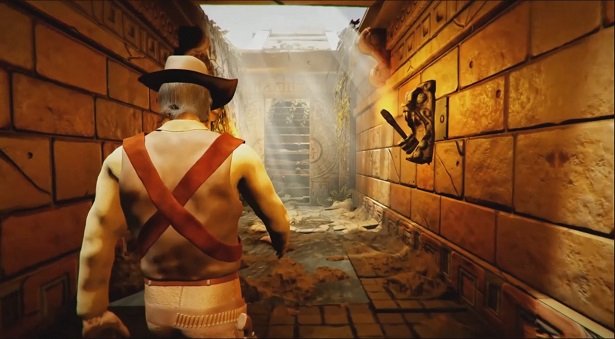 Equip your torch, lantern and courage and explore tombs and cave networks that are filled with traps, loot, treasures and dangers.
Download Badiya: Desert Survival Game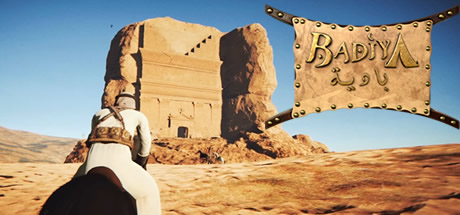 Badiya: Desert Survival Trailer

Game Badiya: Desert Survival Download
System Requirements
Minimum:

OS: Windows 7 | 64-bit
Processor: Intel Core i5
Memory: 4 GB RAM
Graphics: nVidia Geforce 970 or equivalent
DirectX: Version 11
Storage: 8 GB available space
Additional Notes: Installing the game on a SSD Drive is highly recommended for the best performance
Recommended:

OS: Windows 10 | 64-bit
Processor: Intel Core i7
Memory: 8 GB RAM
Graphics: nVidia Geforce 2060 or equivalent
DirectX: Version 11
Storage: 10 GB available space
Additional Notes: Installing the game on a SSD Drive is highly recommended for the best performance
Free Download Badiya: Desert Survival Game
Full Game, latest version. Download for Free!